Welcome to Infogreen
Our billing Application is simple and secured application which offers end to end solution for your
business needs such as Billing, Inventory and
Accounting your next user experience.
Explore why Infogreen Cloud Solutions is the most complete support solution with the fastest time-to-value.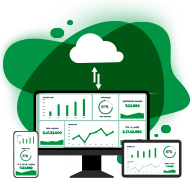 Cloud application
Infogreen Billing application is a cloud-based application, which enables users to access it anywhere, respond quickly to user demands, and maintain key operating functions easily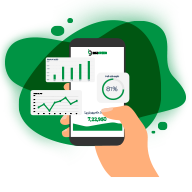 Convenient interface
The Infogreen billing application has been tested with various business needs and has been successfully implemented. The application has a user-friendly interface so that users can explore their needs easily.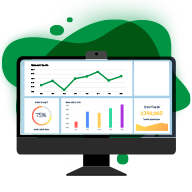 Unique Dashboard
This billing application provides easy access to important metrics. It enables the user to receive the information in a simplified, very easy to understand format, which will help in better decision making, access to data, and accountability.
Special features of our app
Inventory management
Easy to manage Overall count of existing stock. The Infogreen billing application has powerful inventory management features that allow you to track all stock details. For example, you can determine the batch number, expiration date, manufacturing date and slot number by using the application.
Cash flow
Overall insights about all the financial transactions Infogreen billing application allows you to easily record all business transactions. It helps you manage cash transactions such as bank withdrawals, deposits, and transfers
Invoicing / Billing
Create new invoice and bill. Infogreen billing application provides a user-friendly interface. It allows you to create and print customized invoices in seconds and send them to your customers. You can perform different tasks including billing, etc.
Multiple Business/ Branches
Using Infogreen Billing application, you are able to manage all your businesses/companies sales, accounts, and inventories from anywhere and on any device. Stocks can be transferred effortlessly between branches billing, GST return filing, etc.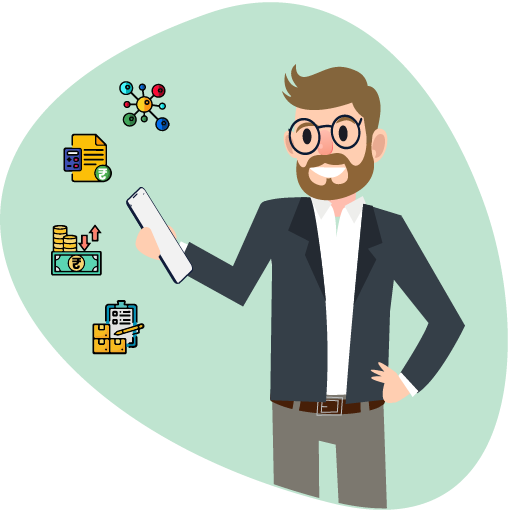 Discount setup
Infogreen Billing application provides a list of discount options to enable default discounts for all customers and products.
Expense records
Tracking the business expenses is very important for accounting purposes as well as tax compliance. Infogreen Billing tracks the expenses as well as provides an accurate report so that you can optimize your business expenditure.
GST
Infogreen billing application allows you to create monthly or quarterly GST reports easily. Create GST Invoices for your customers in seconds and share the data with them instantly for the maximum customer satisfaction. By exporting GST Reports in JSON format, you can file all your GST returns on time on the GSTIN portal. No additional work is required. It helps to file GST Returns easily and quickly.
Business report
This Infogreen billing software allows you to download business reports that can be used to improve operational efficiency and make strategic decisions. The detailed reports can be accessed from anywhere at any time
Order tracking
This Infogreen billing application is easy to use to create as well as track sales and purchase orders. It greatly increases your business visibility while creating an account instantly
Send Quotations & Estimates
The Infogreen billing application lets you create estimates and quotations and share them with your customers. You can also convert estimates into GST bills, and send them to customers within seconds.
Payment remainder
The Infogreen billing application can send bills/invoices and payments reminders to their customers based on the alert setting. It can generate the pending payment reminder alert for a payment that is due.
All prices are exclusive of applicable taxes
faq
frequently asked questions, get knowledge befere hand
By using Infogreen Billing application, businesses reduce a lot of manual labor and reduce the time spent on managing operations using pen and notes. With billing application, business Owners can manage their day-to-day operations easily and track their growth on a regular basis.
Infogreen Billing Application for Mobile is completely free of cost. Infogreen Billing Application for Desktop is having 30 days free trial. Please refer the pricing page to check and get the premium license.
Provides a secure platform for business owners to record daily transactions and track business. Create customized mandatory fields for the business needs Create customized GST & non-GST bills. Tracks and manages inventory system on timely manner. Stock alert notification logic can be fully customized by users
Infogreen Billing Application helps business owners to manage their business daily operations using mobile, desktop and tab etc., It allows business owners to streamline their business processes, saving them a great deal of time and money.
Start today, and enjoy our free trial
Start your 21-day free trial. No credit required. No strings attached
Head Office
Ground Floor,
Flat 1A 3/20, Ellaiamman Kovil street Gokul Residency,
West Mambalam, Chennai,
Tamil Nadu-600033

Branch Office
Akshayam, O.No.4/1, N.No.153-B,
1st Floor, Sugavaneshwara Street, Nathan Hospital Backside, Tamil Nadu-636004.
Office: 0427-4554291